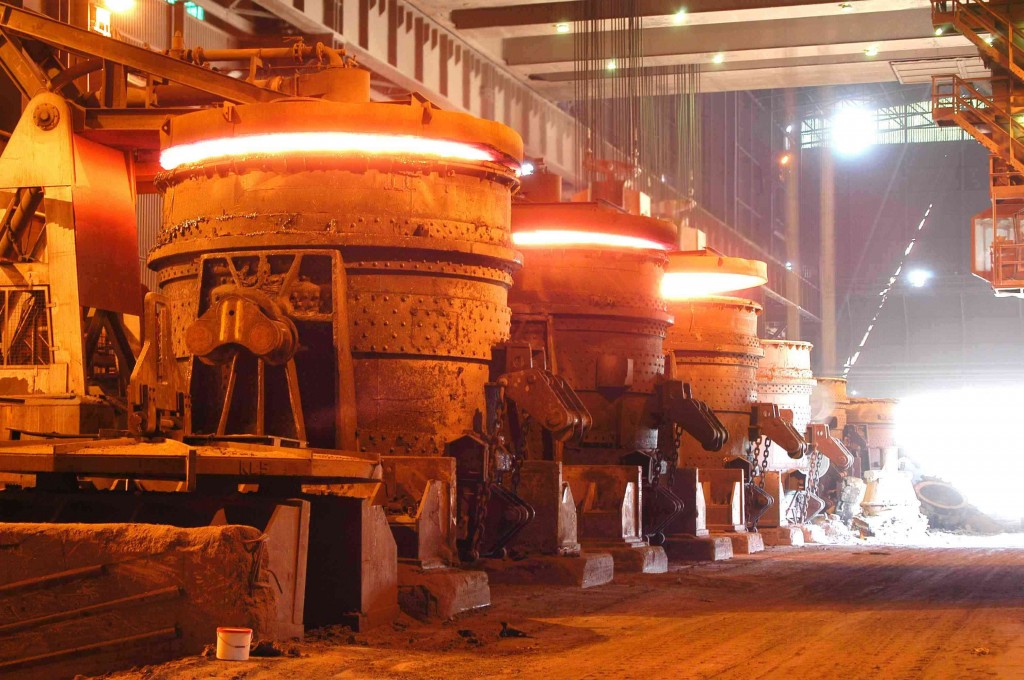 Iron And Steel Cluster' Ready Near Raipur
The Chhattisgarh Government
has finally completed the development of 'Iron and Steel Cluster' near Raipur at an estimated cost of Rs 54.86 crores.
The cluster project was approved by the Central Government on March 4, 2005 during the 10th plan period. The Central Government had released grant of Rs 30.79 crores for development of the cluster, according to the available Central government data.
Notably, a Centralised Effluent Treatment Plant had been proposed to be constructed at the ongoing Metal Park project which is being established on 87.57 hectares of land at Rawanbhata about 12 kms from Raipur city, officials informed.
The project is being executed by Chhattisgarh State Industrial Development Corporation (CSIDC). A Waste Water Drainage system has also been proposed at the site.
The first phase of Metal Park has been completed in 20 hectares of land.
The proposed industries to be established at the Park are downstream metal (ferro and non ferro) industries like tower manufacturing units, wind mills, nut-bolt, hand tools, forgings, castings, utensils, auto components, machine manufacturing, pipe/tubes ropes, transformers, welding electrodes, modular furniture/kitchen, control panels etc. Plots of various sizes ranging from 1000 sqmt to 10000 sqmt.are available. The metal park shall provide quality infrastructure like roads, water supply, street light, commercial and amenities zone.
Notably, the Central government has approved projects worth Rs 99 crore for upgradation of key industrial infrastructure in Chhattisgarh.
Currently infrastructure of Urla Industrial Area in Raipur and Sirgitti Industrial Area in Bilaspur are also being upgraded which includes improvement of roads, water and power supply facilities, officials stated.
The Centre has approved an estimated Rs 54.81 crore for upgradation of infrastructure facilities at Urla Industrial Area and around Rs 44.60 crore for Sirgitti Industrial Area.
Notably, the Union Ministry of Chemicals & Fertilisers has also accorded 'in principle' approval to the proposed Plastic Park project in Rajnandgaon district of Chhattisgarh, officials stated.
The proposed Plastic Park will be established by a Special Purpose Vehicle (SPV) with Chhattisgarh State Industrial Development Corporation (CSIDC) as a partner. Around 50 units to be set up in this park, officials stated.
The Chhattisgarh government would hold a mandatory 26 per cent equity in the SPV.
The Chhattisgarh government had sent a proposal to the Central government for setting up a Plastic Park on July 7, 2015.
Notably, the Chhattisgarh government in a bid to provide a major boost to industrial development is now planning to establish many more industrial areas and industrial parks in the State.
Significantly, the Industrial Growth Centre at Urla near Raipur is set to emerge as one of the key industrial zones having world-class infrastructure in the country.
The Centre has already accorded final approval for upgradation of infrastructure at Industrial Growth Centre, Urla in Raipur district at a total project cost of Rs 54.81 crore .
The Central government's grant approved for the project is Rs 12.26 crore, officials stated.
The upgradation of the infrastructure is being done under Central government's 'Modified Industrial Infrastructure Scheme (MIIUS).
As many as 11 projects in the country have been accorded final approval with central assistance of Rs 283.23 crore.
It may be recalled that the Chhattisgarh government is also mulling over plans to establish a mega industrial zone at an estimated cost of Rs 177 crore near Raipur.
The industrial zone would be spread over 1730 hectares of land, official stated.
The industrial zone would be established for setting up of steel plants, power plants, captive power plants and other core industries.The zone would also be developed by CSIDC.
With a view to accelerating industrial development in Chhattisgarh, the State government will be setting up an Engineering Park in every district in a sequential manner, Chief Minister Raman Singh had stated in November last year.
Dedicating a newly-developed Engineering Park in Hathkhoj industrial area situated near the Steel City Bhilai , Singh said Bhilai is famous across the country and abroad as 'mini India' and the newly set up Engineering Park is going to play a remarkable role in boosting-up industrial development.
He said that numerous industrial projects are to be established in the Engineering Park which is going to open employment opportunities for local populace.
Aiming to create employment opportunities for people here, the State government is making several efforts for industrial development which resulted in building of an optimistic environment for investment in sectors like Information Technology, electronic equipment, solar energy and Agri-based industries.
Source: www.dailypioneer.com